S.T.R.E.A.M. Kits
Our new collection of STREAM kits is meant to help young library users build their Science, Technology, Reading, Engineering, Art, and Math skills through engaging and innovative play. Keep reading to see what kits you can check out from LTPL, or place a hold on a kit here.
Why STREAM? STEAM is better than STEM, but STREAM is the best! Because it's never too early to immerse your kiddo in language! Basically, STREAM adds one more layer to STEM and STEAM: Reading and writing.  Many educators see literacy as an essential part of creating a well-rounded curriculum, as it requires critical thinking as well as creativity.
Please remember that STREAM kits cannot be renewed, and a kits can only be checked out on a library card is in good standing. Parents or guardians checking out STREAM kits on behalf of their children shall consider the child's age when selecting appropriate activities to take home. Please contact us if you have any questions.

SNAP CIRCUITS
---
Snap circuit's beginner STEM kit includes 14 parts, and more than 20 projects learning the basics of how switches and circuits work. The included color manual was created just for younger "engineers". With few words and lots of step-by-step diagrams. Parts have extra safety features integrated beyond the circuits technology, included in every snap circuit set. These STEM building sets are an excellent introduction to problem-solving, following directions, and the satisfaction of a job well done.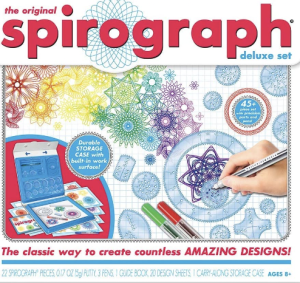 SPIROGRAPH
---
The Classic way to create countless amazing designs. The kit features a high quality, durable carrying case with snap-in storage and a built-in drawing surface. The precision engineered Spirograph gears work with the 3 design pens included in the set as well as with most standard pens, markers and pencils. The new Spirograph Putty holds the Spirograph pieces securely on the paper so that you can create intricately beautiful designs with no holes in the paper. The set also comes with 20 sheets of design paper and a full-color design guide, which explains the fundamentals of drawing with Spirograph as well as step-by-step instructions for creating your own designs.
TUMBLE TRAX
---
Inspire kids to use critical thinking skills to create their own unique marble runs with long, short, and curved magnetic pieces! Drop a marble to see each design come to life. Engineering and problem solving have never been this much fun! Kids can rearrange the pieces countless ways to make the marble change speed and directions.
Q-BA-MAZE 2.0
---
Q-BA-MAZE is a unique system of colorful cubes that interlock to form an exciting marble run. The big difference? The configurations are UNLIMITED! Build shapes like flowers, fish or dinosaurs! Challenge your child's spatial skills with hours of continuous play. Follow the step-by-step directions or experiment with your own original creations.
BRAINBOX: ANIMALS
---
BrainBox is a fun memory and observation card game which tests your eye for detail. What can you remember in just 10 seconds? This animals edition of the game features; habitats, behaviors and much more of wildlife from across our planet. BrainBox Animals contains 70 game cards each representing a different member of the animal kingdom, from; polar bears to pumas, tapirs to tigers and many more besides. Each card has an individual species with details of where and how they live with hand drawn illustrations bringing each animal to life. The game will help children learn about the natural world around them whilst also developing the cognitive skills of observation and memory recall, foundations of life-long learning.
LITTLEBITS: BASE KIT
---
The littleBits Base Kit contains everything you need to get started with designing and creating your own interactive creations. Included in this Basic Kit are 10 littleBits modules that can be attached together by the power of magnets, a 9V alkaline battery and cable, a motorMate to attach wheels or other objects to the DC Motor Bit, and a full-color instruction booklet with eight fun projects to create. With this kit you will be able to easily make a multitude of projects including: a simple alarm clock or even turn a DC motor!
SUN MOSAIC WOOD PUZZLE
---
Colorful, geometric wood tiles encourage young artists to explore patterns and symmetry. Our Sun Mosaic Wood Puzzle includes 30 painted wood blocks and a 9-inch diameter wood tray.
PLUS MANY MORE! PLEASE SEARCH FOR THE TERM KITS IN OUR CATALOG